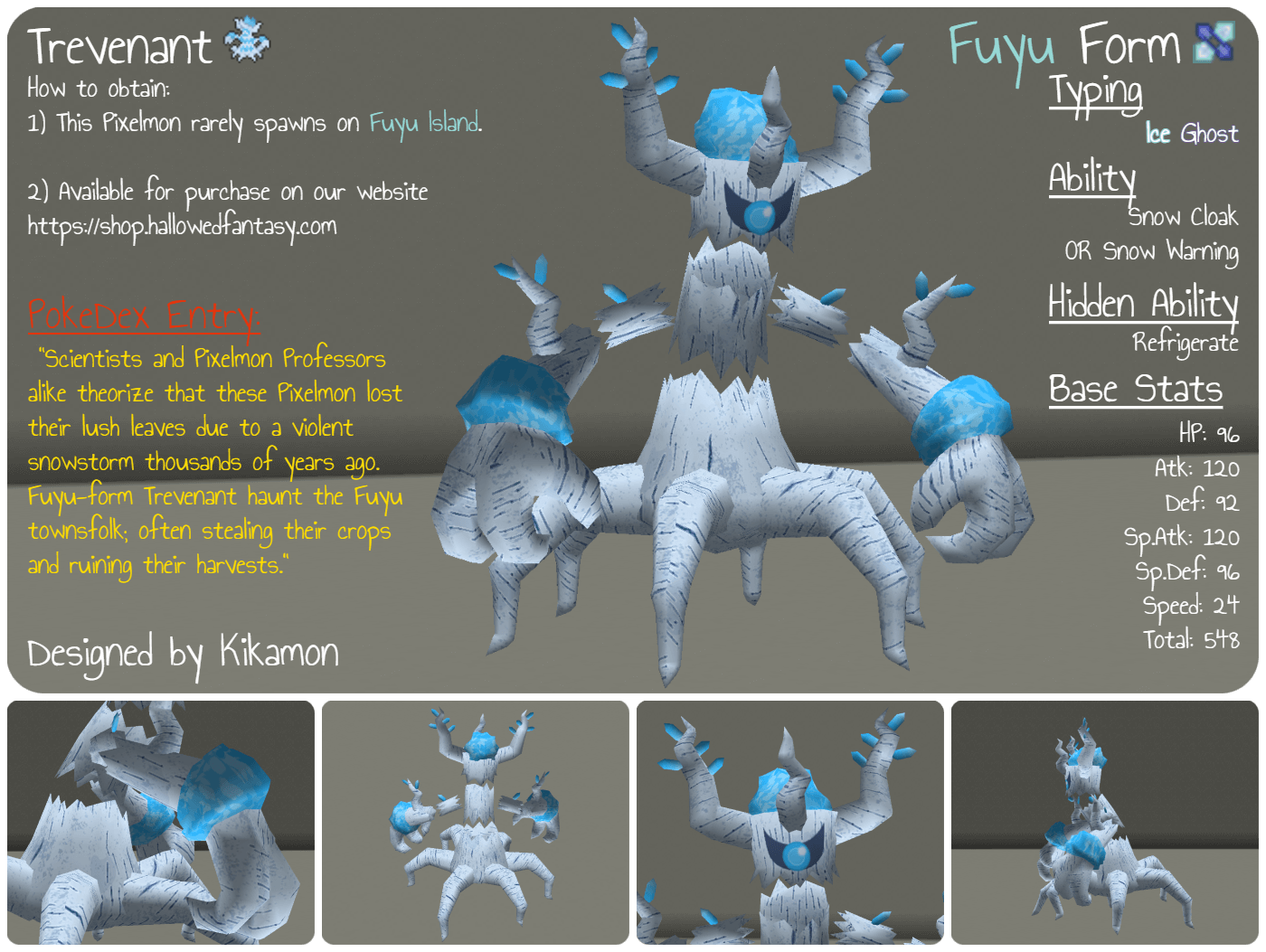 This special Trevenant is found atop the freezing mountains of the Fantasy Region. It has recently been discovered that these areas were once home to lush forests thousands of years ago by a recent archaeological study. It is theorized that the bodies to these ghost Pixelmon slowly froze over time to adapt as the climate shifted, killing a vast majority of the Trevenant off and only leaving a few. Because of its frozen body this Pixelmon is referred to as the Winter Trevenant.
Statistical Information
[SPRITE] Trevenant -

Winter-Form
Previous Stat Points: 85 HP, 110 Attack, 73 Defense, 65 Special Attack, 83 Special Defense, 56 Speed
Adjusted Stat Points:

96 HP, 120 Attack, 92 Defense, 120 Special Attack, 96 Special Defense, 24 Speed

Type:

Ice

/

Ghost

Ability:

Snow Cloak OR Snow Warning

Hidden Ability:

Refrigerate
Pixelmon Information
National Pokédex Number: #709
Spawn Location: Ice Mountains
Catch Rate: 60
Gender Ratio: 50%

Male

50%

Female

Egg Group: Undiscovered, this Pixelmon is unbreedable!
Level-Up Moves

​
| | |
| --- | --- |
| Starting Moves | Icy Wind, Horn Leech, Shadow Claw, Ice Shard, Counter |
| 25 | Curse |
| 28 | Trick Room |
| 31 | Present |
| 34 | Glare |
| 36 | Phantom Force |
| 38 | Hail |
| 41 | Fake Out |
| 43 | Ice Beam |
| 45 | Trick |
| 47 | Reflect, Light Screen |
| 49 | Destiny Bond |
| 51 | Aurora Veil |
| 53 | Shadow Sneak |
| 55 | Quick Attack |
| 57 | Blizzard |
| 59 | Memento, Bestow |
| 62 | Hyper Voice |
| 65 | Recover |
| 70 | Freeze-Dry |
TM Moves
| | |
| --- | --- |
| TM17 | Light Screen |
| TM18 | Reflect |
| TM19 | Safeguard |
| TM21 | Thief |
| TM24 | Snore |
| TM25 | Protect |
| TM27 | Return |
| TM31 | Attract |
| TR37 | Taunt |
| TM38 | Will-O-Wisp |
| TM39 | Facade |
| TM44 | Imprison |
| TM63 | Drain Punch |
| TM65 | Shadow Claw |
| TM70 | Trick Room |
| TM77 | Hex |
| TM79 | Frost Breath |
| TM86 | Phantom Force |
| TM97 | Brutal Swing |
TR Moves
| | |
| --- | --- |
| TR20 | Substitute |
| TR26 | Endure |
| TR27 | Sleep Talk |
| TR33 | Shadow Ball |
| TR38 | Trick |
| TR85 | Work Up |
Move Tutor Moves: