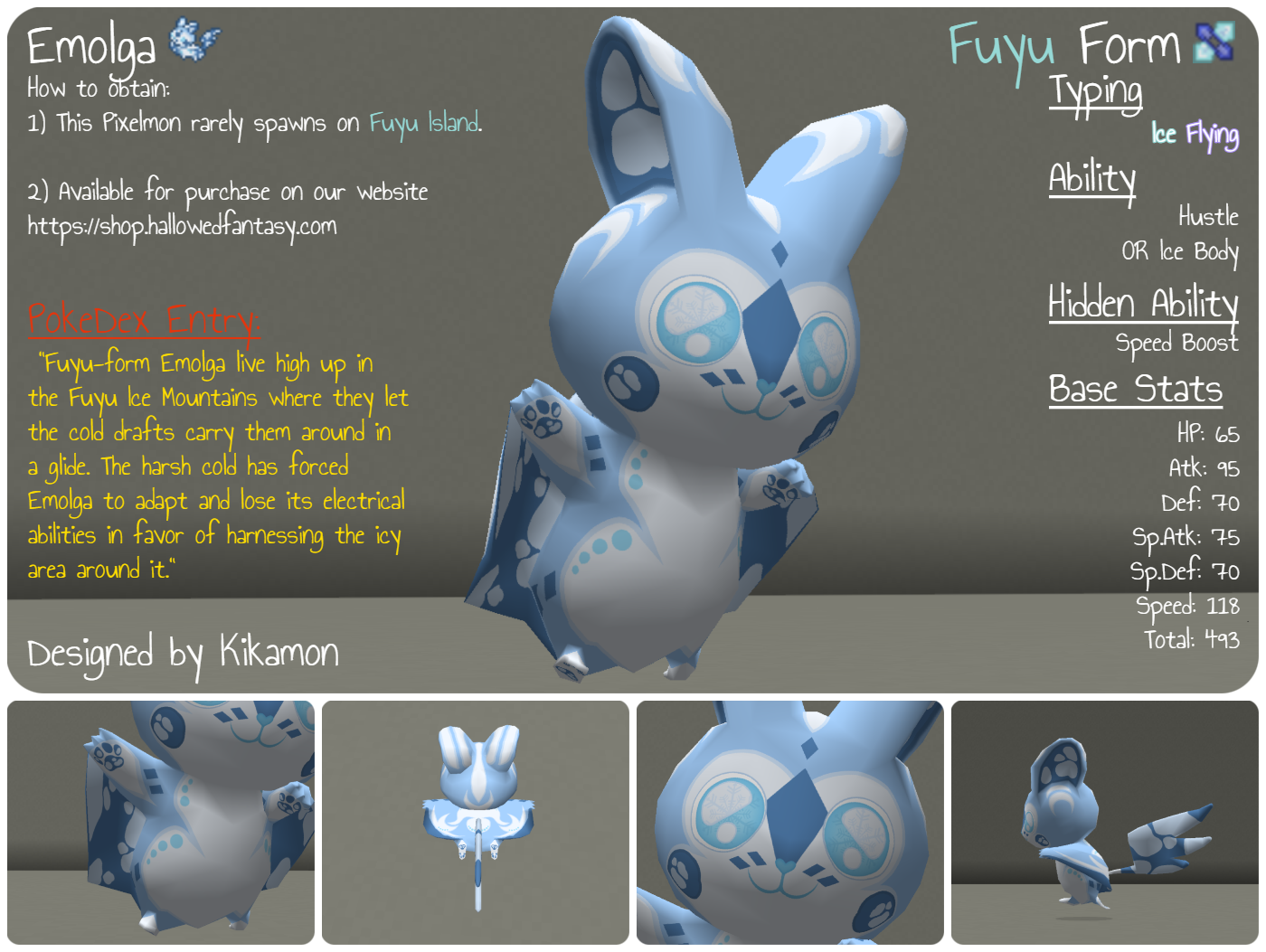 These cute Emolga live up high in the Hallowed Regions mountains where they let the cold drafts carry them around in a glide. Because of this harsh cold, they have adapted over time and have lost any control over their electrical abilities, instead learning to harness the cold in order to survive.
Statistical Information
[SPRITE] Emolga -

Sabrinus-Form
Previous Stat Points: 55 HP, 75 Attack, 60 Defense, 75 Special Attack, 60 Special Defense, 103 Speed | Base Stat Total: 428
Adjusted Stat Points:

65 HP, 95 Attack, 70 Defense, 75 Special Attack, 70 Special Defense, 118 SPeed | Base Stat Total: 493

Type:

Ice

/

Flying

Ability:

Hustle OR Ice Body

Hidden Ability:

Speed Boost
Pixelmon Information
National Pokédex Number: #587
Spawn Location: Ice Mountains
Catch Rate: 200
Gender Ratio: 50%

Male

50%

Female

Egg Group: Undiscovered, this Pixelmon is unbreedable!
Level-Up Moves

​
| | |
| --- | --- |
| Starting Moves | Tail Whip, Fury Attack, Powder Snow, Nuzzle |
| 5 | Double Team |
| 7 | Supersonic |
| 10 | Quick Attack |
| 15 | Ice Fang |
| 20 | Encore |
| 25 | Acrobatics |
| 30 | Ice Shard |
| 32 | Mirror Move |
| 35 | Gust |
| 36 | Chip Away |
| 40 | Ice Beam |
| 45 | Double Slap |
| 50 | Icicle Crash |
| 55 | Air Cutter |
TM Moves
| | |
| --- | --- |
| TM02 | Razor Wind |
| TM04 | Whirlwind |
| TM11 | Solar Beam |
| TM17 | Light Screen |
| TM21 | Rest |
| TM24 | Snore |
| TM25 | Protect |
| TM27 | Icy Wind |
| TM29 | Charm |
| TM31 | Attract |
| TM32 | Double Team |
| TM33 | Rain Dance |
| TM35 | Hail |
| TM39 | Facade |
| TM40 | Swift |
| TM41 | Helping Hand |
| TM43 | Sky Attack |
| TM46 | Weather Ball |
| TM56 | U-turn |
| TM58 | Sky Drop |
| TM59 | Fling |
| TM62 | Speed Swap |
| TM64 | Avalanche |
| TM67 | Ice Fang |
| TM70 | Aurora Veil |
| TM76 | Round |
| TM78 | Acrobatics |
| TM79 | Frost Breath |
| TM95 | Air Slash |
TR Moves
| | |
| --- | --- |
| TR05 | Ice Beam |
| TR12 | Agility |
| TR20 | Substitute |
| TR26 | Endure |
| TR27 | Sleep Talk |
| TR29 | Baton Pass |
| TR30 | Encore |
| TR31 | Iron Tail |
| TR37 | Taunt |
Move Tutor Moves:
Dual Wingbeat
Triple Axel
Extreme Speed
Mist